From left: Rollo Anderson, 3rd place; Cristiano Beretta, 1st place; Mike Tomašic, 2nd place
Some of Sydney's top bartenders, media and trade gathered at Cafe del Mar at Darling Harbour this Monday night for the official launch of Mezcal Amores. Also announced on the night were the top three finalists of the In Love with Amores cocktail competition organised by Mezcal Amores and Mextrade, the Australian importer of the brand.
The competition saw 20 Sydney bartenders use Mezcal Amores to create new, innovative cocktails. The judging panel included Mextrade's Jorge Cervantes, Corrine Mossati from Gourmantic, Ben Shipley of Everyday Drinking, and Australian Bartender editor, Sam Bygrave, and over the course of two nights the judges visited Sydney bars from Bondi to the CBD and over to Manly in search of the best Mezcal Amores cocktail.
Bartenders used everything from sous-vide techniques to ingredients like dulce de leche, worm salt, roasted peppers and horchata in their quest to create the perfect drink. In the end, it was Cristiano Beretta of The Rook and his unique presentation and delicious drink — which took Mextrade's Cervantes back to his roots in Mexico — that impressed the judges and earned him first place.
ADVERTISEMENT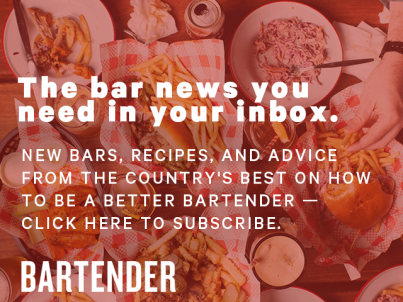 &nbsp
In second place was Mr Moustache's Mike Tomašic, who wowed the judges with a perfectly executed after-dinner style drink. In third place was Rollo Anderson, who, representing theloft, presented a bangin' drink and spoke with great passion about Mezcal Amores and mezcal generally.
Beretta has won a week long trip to Mexico with Mezcal Amores and Mextrade, where he'll be visiting Mexico City and Mezcal Amores' home in Oaxaca.

The Rook's Cristiano Beretta, Mextrade's Jorge Cervantes, Australian Bartender's Sam Bygrave